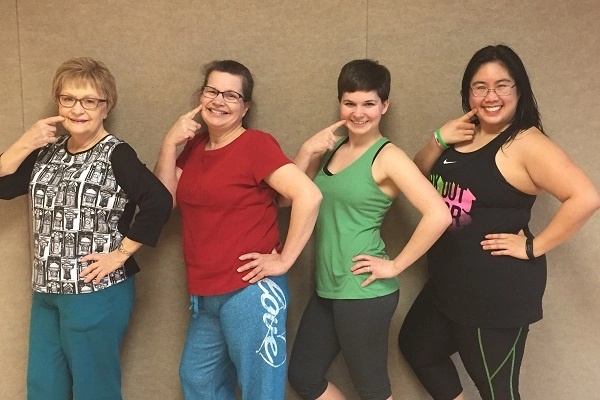 For three generations of strong women, multiple sclerosis and ovarian cancer can't shake the bonds of family and survivorship.
Daughter Whitney, mother Kathy and grandmother Eileen meet twice a week at the Salem Health CHEC for registered nurse Mai Dotran's Move 'n' Groove class. It's a cardio dance class for people of all backgrounds and abilities that infuses R&B, pop, hip hop and Latin music.
Whitney was the first to try the class. She's a clinical research associate in oncology and has a bachelor's degree in community health education, primarily focused on nutrition and sexual violence prevention. Although her work has prepared her to make healthy diet and exercise choices, she still felt like she could do more to improve her cardiovascular fitness.
"There's a lot of body positivity in class. No one feels self-conscious, and the instructor, Mai, has an infectious energy," she said. "A word to really describe how class makes me feel is joyous."
After trying the class, Whitney invited her mother to join her. While Kathy felt some anxiety about doing all the dance moves, it all dissipated once she started moving and getting to know everyone in class.
"I have multiple sclerosis, but it doesn't have me!" Kathy said. "The instructor has three rules: have fun, sweat and modify. That means that if I'm struggling with a dance step, it's okay to change it a little and do what I can. It's a combination of the instructor and the other people in class that make me feel comfortable and excited to work out. It would be challenging to find someone in class who doesn't have a smile on her face."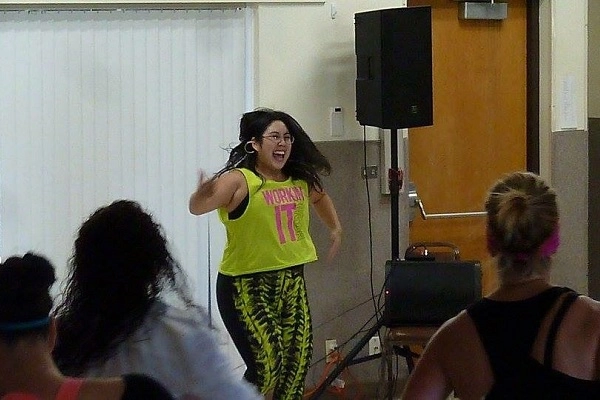 Whitney and Kathy decided to invite the family matriarch to join the fun. Eileen will be 80 this spring. She's completed two rounds of chemotherapy for ovarian cancer, but it's not holding her back.
"Mai is wonderful. She knows everyone's name and tells us to keep moving and having fun even if we make mistakes in the moves," Eileen said. "I feel safe exercising in class because we're surrounded by nurses. It's also a very accepting atmosphere."
All three women are grateful for each other and for the quality time they spend together during class.
"We'd encourage anyone to try it out. It's improved my mobility, and I know that mother's oncologist was happy to see her add more exercise into her regimen," Kathy said.
How to register
If Whitney, Kathy and Eileen's story has piqued your interest, you can register for the Move 'n' Groove class here. Each session has 12 classes for $40, which comes out to only about $3.33 per class.
The CHEC also offers an entire catalog for cooking, mindfulness and smoking cessation classes, just to name a few. Participants include all kinds of students from nurses and medical staff to retired seniors and young professionals. Men and women of all ability levels from any social or economic background are encouraged to learn more about how Salem Health promotes all aspects of wellness. Check out the class catalog here!
Questions? Call 503-814-CHEC (2432). To ask about Move 'n' Groove, email Mai Dotran, RN at mai.dotran@salemhealth.org.