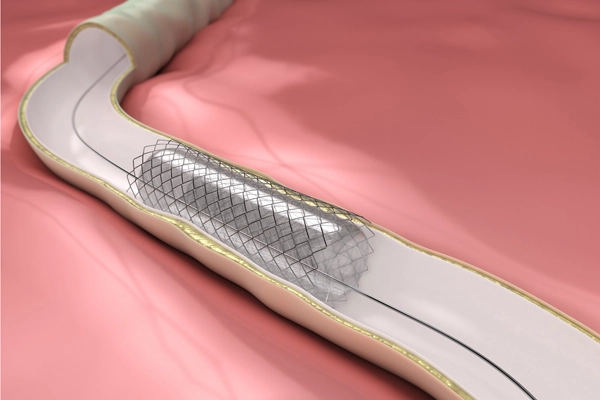 At a routine eye appointment, Bill R.'s ophthalmologist noticed his blood pressure was quite high. Bill wasn't too concerned as he exercised regularly, practiced good eating habits and had recently been given a clean bill of health from his primary physician.
However, out of precaution, Bill decided to go back to his doctor to make sure nothing was wrong. When he went in for his appointment, his blood pressure was high again.
Bill continued to exercise daily and eat well. Shortly thereafter, while visiting family in Washington, D.C., he felt terrible. When he returned home, Bill began experiencing shortness of breath. "After a few episodes, I told my wife I was going back to the doctor," Bill said.
"I happened to be at my doctor's office, and my blood pressure was extremely high," Bill said. "I told the nurse about my symptoms over the previous few weeks, and she immediately got the doctor." Bill's physician was very concerned he might be experiencing pre-heart attack symptoms. Bill was ambulanced to Salem Health where he was taken into the emergency room for an evaluation.
Although the initial tests did not reveal a heart attack, Bill's physician called in cardiologist Hrishi Iyengar, MD, a member of the Salem Health Heart & Vascular Institute. After speaking with Dr. Iyengar, they decided to do some additional tests.
The cardiologist recommended cardiac angiogram, an imaging technique used to see the blood flow in arteries of the heart. The next morning, Bill was taken to the cath lab. The angiogram showed disease in multiple vessels of Bill's heart, including an artery that was ninety percent blocked or occluded, and two others that were partially occluded.
Dr. Iyengar recommended putting in a stent, which they were able to do in the same procedure, right then and there.
Bill recovered from his procedure in the cardiac unit and began post cardiac stent treatment. He was started on medication to keep the stent open, blood pressure and cholesterol medication.
"I was only in the hospital a few nights," Bill said. "The nurses in the Cardiovascular Care Unit were fantastic. They treated me so well, managed the medications, explained everything in detail and were very informative. I even sent an email to the nurse manager to compliment them on what high-quality nurses they have."
After being discharged from the hospital, Bill entered into the Salem Health cardiac rehabilitation program. The cardiac rehab team addressed Bill's specific cardiac risks. They helped him learn how to adjust his diet. They taught him what foods to eat, how to prepare them and what to avoid. They also directed his exercise regimen during his recovery and guided him on exercises to sustain his health.
"I have nothing but total respect and awe for the cardiac nurses, rehabilitation specialists and others specialists participating in the program," raved Bill. "I was treated as an individual, and every aspect of my treatment and progress was monitored right through the completion of the program."
"As a result of the exceptional care and guidance I received along with my wife's complete support throughout the process, I am back to all my regular activities," Bill said. "Even my cholesterol levels are outstanding now!"