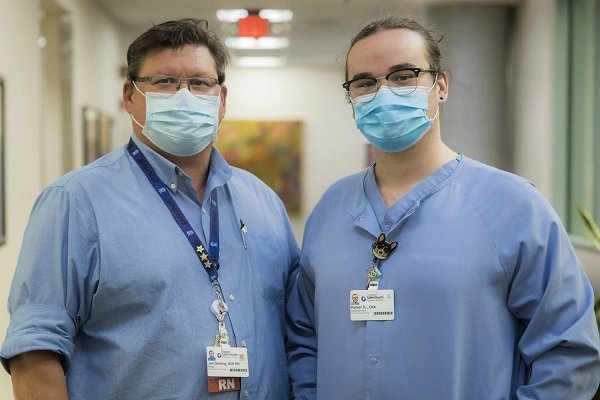 Jon and Parker Deming, father and son, are both attending college to advance their medical careers.

Jon started at Salem Health as a nurse, then joined administration with physician peer review, and as interim manager of the lab. Now he manages inpatient quality and medical staff support while completing his MBA in health care management.

"My dream of working in health care is being realized after all these years," said Jon. "I feel fortunate that I am able to combine my dream of healthcare with my love for managing people and systems."

Parker, Jon's son, spent the past six years with Salem Health as a therapy aide and certified nursing assistant (CNA). Now he's a critical care technician at Salem Hospital.

"I have always been so inspirited by the people I work with and everything we do at the hospital — such that I want to further my education and get my degree in nursing," said Parker.

The Demings are among the latest recipients of scholarships awarded by the Salem Health Foundation. Investing in future health care providers is important to the foundation, and has been so from the very beginning.

The foundation's scholarship program began in 1968. The first grant was $500, awarded to a Salem Hospital employee enrolled in the Associate Degree of Nursing Program at Salem Technical-Vocational School, now known as Chemeketa Community College. To date, the foundation has awarded $3.3.-million in scholarships.

This past year, the Salem Health Foundation continued the tradition by awarding $330,000 in scholarships to 110 local students. Although diverse in their areas of study, all are seeking medical or medically associated degrees.

Several donor-created scholarships were awarded through the Salem Health Foundation including:
The Rollin Haag nursing scholarship
The Elmera "Tiny" Richardson nursing scholarship
The Sewell Family scholarship for medical or nursing students
The Grayce & Glola Sigg nursing scholarship
The Salem Self-Help Nursing Scholarship, which was awarded through the Salem Foundation.

Many scholarship recipients, like the Demings, indicate they plan to return to the local area or continue at Salem Health after completing their degrees.

"I look forward to seeing what more I can offer Salem Health in the future," said Jon.

Parker added, "I have always felt at home at Salem Health and I want to continue working here and serving our community."

Donors have supported student scholarship for more than 50 years and provided the opportunity for hundreds of students to pursue their dreams. Because of their generosity, the Salem Health Foundation can continue its work to ensure a healthy community by investing in future providers, guaranteeing residents of the Mid-Willamette Valley will have access to high quality, local health care. Learn more at www.salemhealth.org/donate.